THE WORLD'S MOST POWERFUL




HIGH-RF FREQUENCY




RESEARCH INSTRUMENTS
*Plasma Ray Tube (shown) sold separately - $375
COMPARE THE FACTS




BEFORE YOU BUY.
Our 2022 Premier Combo Package
The BEST in the marketplace...the most powerful and versatile frequency
generating system with advanced vacuum tube driven amplifier technology.
​
GB-4000 20 MHz Frequency Generator with M.O.P.A. Amplifier
Are you considering purchasing a frequency generator?
Get FACTUAL equipment
comparison information
before you buy!
Be Informed
Get FREE Comparison Reports
For example, you'll read in one of the comparison reports that a top competitor's advertised "Rife Machine" claims to output between

18

and

45.6 watts

(their different sources). Our comparison report links you to videoed lab tests that clearly shows that these power wattage claims are not close to accurate. Their tested frequency devices were found to only output

less than 1 watt each

.

More than one of their same devices were thoroughly tested and reviewed.





Make an INFORMED buying decision!
FREE Phone Consultation. Talk with Dr. Gary Teal, frequency researcher, Licensed Acupuncturist and Certified Traditional Naturopath. Gary has over 26 years of experience using frequency technologies in private integrative practice and consultation---exclusively using the GB-4000 system and protocols since 2002.
Call now 385-220-5000 to get your questions answered before you purchase ANY machine ... ours or theirs.
Frequency research instruments described on this website or discussed during consultation are not intended to diagnose, treat, cure or prevent any disease.
People usually have only

ONE

opportunity to make a wise and

correct

choice.

Be sure to choose a

POWERFUL

frequency instrument system

that

includes

all

9

of these

important specs, benefits and features.

ONLY

a

GB-4000

system includes

all 9!
Power determines penetration. How well an instrument works is tied directly to the power output broadcast on a carrier waveform. With our SR-4 it is 75 to 150 times MORE powerful than our top competitor's frequency devices.
A variable high-RF carrier frequency is utilized to deliver more power to the intended 'targets' and make larger side-band sweeps possible. No other plasma tube instrument has this capability.
DESIGNED AFTER YEARS OF RESEARCH
UP TO 8 TIMES
FASTER TO USE
MORE THAN A
30-FOOT RANGE
CUSTOMER SERVICE FREE EXPERT TRAINING
Huge time saver! Capable of outputting 2-8 frequencies simultaneously. We built a plasma ray tube instrument that can run 8 frequencies at a time with more than enough power for each frequency being broadcast.
The GB-4000, SR-4 and M.O.P.A. frequency generating instruments are the result of over 26 years of extensive research and development including feedback from in-home researchers and clinical reporting.
Full-range capacity...can run ALL of Dr. Rife's frequencies as used in the original Rife Machines. 1 to 20,000,000 Hertz. Other plasma devices on the market are limited from 10K to 400,000 Hertz.
Like the 1930s equipment, one can freely move around the GB-4000 enjoying the freedom of movement within its over 30-foot radius range. The additional 115-watts of power makes this possible. POWER IS VITAL FOR SUCCESS!
The M.O.P.A. plasma ray tube contains 2 noble gases, Argon and Neon, which is completely safe while offering the BEST signal emission for outputting single or multiple RF frequencies.
The Secret Weapon! Both the "SWEEP" function and the "CHANNEL SWEEP" function allows the GB-4000 frequency generator to output targeted frequencies sequentially in defined steps to achieve increased efficacy by allowing all "doors'" to be "knocked" on.
Our instruments are state-of-the-art frequency generating devices and we are the industry leader in customer service, training and professional support...all without an additional fee when you purchase directly from us.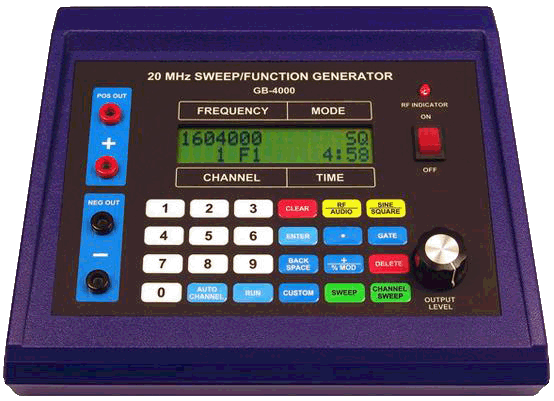 Pre-programmed
with almost
900
easy-to-use
frequency programs
Choose the

GB-4000

20 MHz frequency generator

plus

ONE




of the two

high-RF

AMPLIFIERS

shown below to substantially




increase the power output of the

GB-4000

.
Broadcast method uses plasma gas tube antenna

Non-contact -- frequencies transmitted through air

Only vacuum tube driven amp made - 120/240 volts

Increases RF output of GB-4000 to 190 watts

Variable RF carrier frequency 2.2 to 3.8 MHz

Outputs up to 8 frequencies simultaneously

90% of our customers prefer to purchase this amplifier

$2,870 SUMMER SALE $2,645
Plasma Ray Tube Assembly (antenna)

-- A noble plasma gas-filled borosilicate glass tube, copper collars with wires attached to a metal stand and parabolic reflector.


$375 + shipping from separate vendor.
Shown with reflector removed for 360 degree broadcast.
SR-4 Linear Amplifier is used

with

the GB-4000.
The SR-4 allows the GB-4000 to output in

RF (Radio Frequency) Mode

. Over 110 volts peak-to-peak making it

18 times more powerful than nearly all other frequency generators on the market

. RF power is KING!

The GB-4000 has a variable power output up to 4.7 watts and up to 15 watts

with

the SR-4 amplifier.

Capable of amplifying

8 frequencies simultaneously

which makes it much

faster

to use when connected to the GB-4000 frequency generator. Your time is important to you so why waste it running only

one

frequency at a time?

The GB-4000 with SR-4 can output

ALL

of Dr. Royal Rife's frequencies in the millions of Hertz.

POWER

and a

HIGH FREQUENCY RANGE

in a generator system is vitally important. Request our

FREE

RIFE REPORT

and learn why.
Contact method uses 2 to 8 wires with electrodes

Non-broadcast -- tethered wires deliver frequencies

RF power is up to 150 times higher than audio freqs.

Increases RF output of GB-4000 to 15 watts

Variable 4.7 -- 15 watts power, 30 MHz freq. range

Outputs up to 8 frequencies simultaneously

10% of our customers prefer to purchase this amplifier

$770 SUMMER SALE $720



ESSENTIAL PURCHASES



2 Additional Required Items - Sold by Separate Vendors
The two products below are sold by

separate vendors

to insure our company remains compliant with U.S. Government regulations.
Any questions? Call us at
385-220-5000
The Plasma Ray Tube Assembly (antenna) includes a borosilicate glass tube filled with an inert plasma gas mix, copper collars with wires attached and a metal stand with parabolic reflector. The assembly is sold separately from another vendor for $375 plus shipping. We'll provide you with their ordering website after you place an order with us for the GB-4000 and M.O.P.A. amplifier. Call for more information. Required only if you purchase a M.O.P.A. amplifier.
The GB-4000 Accessory Kit is sold separately from another vendor for $142 plus shipping. We'll provide you with their ordering website after you place an order with us for the M.O.P.A. or SR-4 amplifier. The kit contains 11 useful support items and accessories including a printed 262-page frequency manual with software. This instructional manual contains thousands of anecdotal and researched frequencies including proprietary methods. You will need this accessory kit.
Plasma Ray Tube (as shown) is

NOT

included with M.O.P.A. amp
GB-4000 Accessory Kit is

NOT

included with M.O.P.A. or SR-4